Travel Coaching
There's more to a travel career than blogging & bookings™

HOME TO THE WORLD'S VERY FIRST & ONLY ICF ACCREDITED INTERNATIONAL CERTIFICATION PROGRAM FOR TRAVEL COACHES
What is included?
40 CCE accredited hours through the International Coach Federation (ICF)
Lifetime access to the Travel Coach Certification Program
9 pre-recorded modules consisting of video trainings, developmental and learning resources and tools
International Certified Travel Coach™ Certificate

Continuing education sessions on hot topics in business and the tourism industry

Lifetime access to a database of trainings
Monthly Live Q&A group coaching sessions
Monthly modules discussions
Self-paced program
No start or end date once you enroll
Direct help from the Founder
Connection to the exclusive Travel Coach Entrepreneurs community
Opportunity to list your business on the TCN website and be hired by companies and travelers

Opportunity to participate in the TCN Pitch Competition
and so much more!
Travel Coaching is for you if you want to:
 Help people explore beyond their comfort zones in ways that allow them to learn and discover more about themselves and who they want to be.

 Guide, educate, and inspire travelers to make informed decisions, overcome obstacles, and create memorable journeys.

Help people unleash their inner adventurer, reconnect with their passions, and embrace a life of wellness and purpose.

Help people figure out their "why" for travel and help them travel with intention.

Take people on an inner journey through adventure

Get people out of their mental or daily rut through impactful experiences that change them

Help people heal and thrive through travel

Empower people to use travel as a tool for personal or professional growth

Utilize your knowledge and passion for Transformative Travel, Purposeful Travel, intentional Travel, or Wellness Travel

Create a brand that's authentic to your travel expertise

Lead life-changing and story-steeped tours

Plan transformative experiences of value

Pivot your travel agent expertise

Educate people on the importance and power of travel to transform lives for the better

Empower people to overcome fears and barriers to make it happen for themselves

Inspire people to add more purposeful travel in their lifestyle

Find a new path for yourself using your experience in the travel, hospitality, and/or wellness industries

Mesh your health, wellness, life, or transformational coaching with your background in travel

To inspire and lead others in their own transformative travel journeys

Center your business around travel

Do something more specific to you rather than what everyone else is doing

Reshape a certain area of the industry such as remote work, business travel, corporate wellness, black women travel, family travel, eco-tourism, voluntourism, student travel, or more

Guide others to their own internal clarity, happiness, and peace so they can connect with themselves, others, and the world around them

Guide others on travel-related topics to ease their travel journeys and help them realize that having meaningful and transformative experiences is possible

Empower others to use travel as a tool for self-growth, wellbeing, healing, relationship growth, internal balance, self-development, work-related goals, and more

Have the freedom to work for yourself, live, and travel anywhere in the world

Inspire others to live more mindfully and purposefully
Imagine that you...
Wake up to a career that makes you smile and fills your heart with joy everyday
Create a business that draws in other travel-loving people who just 'get you'
Get featured in your favorite travel publications as someone who is doing something authentic and new
Get invited to share your ideas, insight, and expertise on podcasts or even stages!
Be the face of a travel brand that YOU created and the world recognizes
Have a travel-focused business that allows you the freedom to continue relaxing on the beaches of Thailand, or spend time exploring new cities and trying new cuisines like you love doing, or meeting new and awesome friends around the world while having the travel lifestyle that lead you to your travel business ideas in the first place
What is a Certified Travel Coach

™

?
Travel Coaching is about helping people set specific intentions for their trip. Travel Coaching is a holistic approach to supporting travelers in achieving their travel goals, providing more satisfying and fulfilling journeys, and maximizing their overall travel experience.
It's about the emotional, spiritual, mental wellbeing, and transformative needs that drive our desire to travel in the first place.  Every time that we choose to go on a trip, it's for a different reason. Travel Coaches are the experts who guide you through the entire travel experience from pre-planning to post-trip and beyond.  Travel Coaches exercise their coaching skills to help you get to the root for your desired trip so that you can have the outcomes, transformation, life changes, and feelings that motivated you to hit that search flights button in the first place.
Travel coaches are not travel agents. 
Instead, travel coaches focus on putting the power over their experiences into the hands of the traveler through empowerment, mindset work, guidance, support, in-depth coaching, desired results, strategic planning, intuitive travel, education, and transformation. 
Every travel coach is different because as travelers, we all have unique experiences, knowledge, skills, passions, interests, followers, and areas of expertise.
With that said, travel agents can use the Travel Coach Approach™ to enhance their business, marketing, and client experience.
Whether you choose to focus on moms who travel, solo travelers, retirees who travel, sustainable travel, wellness travel, transformative experiences, remote worker wellbeing, business travel, black women travel, or any other niches, you can make a difference in the future of travel while sculpting your dream travel-related business.
Tell me, what kind of travel coach do you aspire to be?
Why travel coaching?
People want the travel knowledge, transformation, and experiences that you hold. People want to be more involved and in control of their travels so they can have their ideal lifestyle, reach their travel goals, or have the transformative experiences that reshape their mind, body, and soul.
YOU hold the secrets that they want the key to unlocking!
Use your authentic travel experiences and unique area of expertise to help people gain a better understanding of why they want to travel and what kind of experiences they need to have in order to obtain the transformation, outcome, or awakenings that change their way of life forever.
The Travel Coach Certification Program
™

is for you if:
You want a business coach who can relate to your passion for travel!

You want direct 1:1 help with your business

You want to learn how your travel expertise can make an impact in the future of tourism

You want to become thee go-to expert!

You want more out of a travel career than working freelance for someone else doing social media or VA work, or being a travel agent booking trips, or any other already-done-before jobs.(I wanted more too!)

You're looking for a way to enter the travel industry and start your own travel business?

Not sure where to start or what to focus on?

Don't know what your niche is?

Need business guidance and support?

Want to find clarity in what to offer?

Need momentum and clients?

Want to be recognized for your travel expertise?

Want to enhanced your knowledge and skills as a travel agent, tour operator, travel manager, retreat owner, or wellness leader?

You want moral support

You seek a community who understands the importance of travel

You want a resource for knowledge, tips, and know-how
Begin as soon as you enroll
Enroll today, begin when you're ready
Go at your own pace
Choose to pay in full or the payment plan option
Learn how to combine your passion for travel with your desire to impact the lives of others using your own area of expertise and interest
Create the travel-business that you envision
Mindset
Step into your travel coaching and CEO mindset, overcome lingering fears and limitations, and shift how you grow your business
Business Basics
Cut out all of the noise of "use this", "buy that", and "this is best" when I lay out the fundamentals and necessities of beginning, developing, and accelerating in your business.
Network
You're never alone. You'll be a part of an incredible community of other travel-minded beautiful souls who will help you learn, grow, be accountable, and thrive in life and business.
Live Trainings
I hold monthly group sessions to help you on an even more personal level. These sessions are amazing opportunities to ask questions and gain clarity.
Travel Coach Approach

™
Learn how to implement my signature Travel Coach Approach™ framework. These areas focus on empowering others, shifting the traveler's mindset, research on the wellness and different benefits of travel, hyper-personalize your client's experiences, transform yourself and the outcomes of your client's lives, engulf in human connection, and become the travel storyteller that attracts your most ideal audience
Resources
Collect dozens of templates, workbooks, examples, pdfs, checklists, resources, and tools to help, guide, and inspire your services and products.
Beginning your Travel Coach Journey
Learn everything that you need to know to set yourself up for success. I teach you how to create a framework like mine that changed the trajectory of my business

It's All About Mindset!
Get into your travel coaching mindset and step into your highest self
Finding your Travel Coaching Niche

No more confusion! Finally narrow down from your millions of ideas to your areas of expertise.

Setting a Solid Foundation for Your Business
Many business owners kick themselves later on for not setting a solid foundation for thier business. Don't let that be you! This is a crucial step in having the business that you envision and need.
Creating Your Authentic Travel Brand
Learn how to become the to-go travel coach in your niche and rock your brand!
Sculpting Your Coaching Structure
Identify and get clients. Finally have the clarify , organization, and plan of action that you need to reach your business goals.
How to be a Travel Coach
Everything that you need to know to come become an impactful travel coach who changes people's lives through travel.
Implementing The Travel Coach Approach

™
I give the secrets to my signature travel coach approach that has gained me global media attention and life-changing opportunities.
Spreading your Message and Scaling as a Travel Coach
Learn how to spread your message as a travel coach to millions of people through media opportunities and how to land career-changing relationships.
Creating Your Dream Travel Coach Products and Services

My must-have bonuses are waiting for you!
Types of topics covered in the lifetime of on-going monthly trainings:
Effective and meaningful content creation
Getting Visible and why it's important
Fitting into the Future of Travel
Figuring out what to focus on and where to even begin
Finding your niche and being different
Setting up your business 101
Landing media and publicity opportunities
Creating and spreading your message
Helping people transform through travel
Combining your life or other coaching experience with your passion for travel
Transformative and purposeful travel industry data
the Wellness Benefits of travel
Motivating factors driving travel demand
and more
This isn't your average program!
The Travel Coach Program is a travel business and travel coaching program all-in-one.
From setting up the foundation of your travel business both fundamentally and technically to mastering your travel coaching skills and developing your dream products and services...and everything in between!
What joining the Travel Coach Certification Program gets you:
9 Pre-recorded modules
Lifetime access to the content
Live ongoing monthly live trainings/education sessions
Live monthly Guest Travel Coaches
Guest Coaches specializing in a variety of coaching techniques
Guest Speakers and Mentors ranging in topics from Media, Journalism, Business Development, Coaching, Sustainability, Wellness, Mindset, and more.
Workshops
1 private business coaching session with Sahara Rose, the Founder (Pay in Full option only)
The opportunity to have your profile listed and featured on the TCN website
40 CCE hours accredited by the International Coach Federation (ICF)
Become an International Certified Travel Coach
The opportunity to be listed in our new Travel Coach database where you can share all of your business information, book your sessions, be discovered, and be found based on your specific categories/niches/areas of expertise
The opportunity to write a blog post for the TCN Blog
The opportunity to be a guest on the TCN Podcast
The opportunity to become a part of the TCN team
Higher affiliate commission
Direct help and industry insight from the Founder
The opportunity to be a guest Travel Coach and expert for various opportunities including webinars, partnerships, and more.
And much more!
Upon Completion of the Program, You Will Receive:
Certified Travel Coach Certificate (digital and printable)

Certified Travel Coach Badge to put on your website, email signature, social media, etc.
Do you see yourself...
Making an even bigger impact with your travel expertise
Sharing your favorite travel tips and advice in a more meaningful way
Being something more than another travel "influencer"
Validating your travel business vision
Knowing the motivations for taking a trip and the ways that people want to travel
Using your travel experience for more than your current line of work
Helping change people's lives through your deep understanding of the power that travel has on the mind, body, and soul
Finding your signature angle as a travel coach
Learning how to not only become a travel coach but how to start, manage, and grow an online business
Waking up whenever you want in the day and working from wherever you want? (that's one of my favorite parts of what I do)
Using your own 'why' to change the way people travel
Having a coach who totally gets you and focuses on the travel aspect of your business ideas
Creating your dream career that encompasses your WHY for your love of travel
Becoming the leader and entrepreneur that you know you can be
Connecting, networking, and collaborating with other passionate travelers who just "get you"?
So why don't you stop...
Doing what you THINK you should be doing just because others are doing it
Spending all of your money on coaches and programs that lack a focus on travel
Feeling like the only travel career options are working in hotels, airlines, travel agencies, or recruiting for agencies or team building (that is NOT what travel coaching is about)
Sharing all of your experiences, knowledge, and expertise without any return
Waiting for the perfect job to come along or perfect time to take action and change your life
Doing every travel-related job just because it relates to travel but lacks alignment
Struggling to find the answers on how to make your ideas and visions come to life
Telling yourself that you aren't worthy of more in life
Limiting your beliefs on the power and potential of your travel experiences, knowledge, and expertise
Settling in life and business. Period.
Meet the Founder
Hi, I'm Sahara Rose!
I'm a travel and business coach to ambitious travelers.
Being by the ocean is in my Aquarius nature which is why after graduating with a degree in tourism, I was feeling anxious, confused, and unfulfilled. Settling for just any job, climbing the corporate ladder, and doing what was expected after college never felt right for me.
I wanted so much more out of the life. I wanted to explore, find myself, and be happy.
That's when I decided to pack a backpack and set off on a decade-long adventure of traveling the globe to over 84 countries by the time that I was 30. I struggled for years trying to figure out what career I wanted in the travel industry. I believed that my travel experiences and knowledge was more valuable and lucrative than just travel blogging and doing bookings.
I wanted to make an even bigger impact on the lives of others through my passion for travel I believed in the healing power of travel and that we all travel for deeper reasons.
After becoming a Travel coach and a certified Transformational coach who focuses on the wellbeing benefits of travel both in and out of the corporate world and hosting travel coaching workshops around the world, I wanted to help other travelers pioneer their own path to having a travel-centric business that aligns with their authentic travel experiences and how they made an impact in the lives of others through travel.
As the creator of the Travel Coach Certification Program, I spend my time coaching and mentoring passionate travelers of all genders all around the globe through my programs, masterminds, and membership site. I have coached and trained hundreds of travel coaches around the world.
I have been mentioned and featured for my travel and business expertise in numerous well-known publications and podcasts including Thrive Global, Forbes, Skift, Yahoo! Finance, USA Today, Business Insider, Travel Weekly, and Conde Nast Traveller.
I turned my most popular budget travel blog post into a published book on Amazon and I gave a TEDx Talk on the power that travel has on building happier and more united communities in 2022.
I was also named one of 2023's Most Influential Women in Travel by TravelPulse.
I can often be found lounging on a beach somewhere in the world or spending time with my adopted pup Sophie!
I can to help you put purpose to your wanderlust, live your dream lifestyle, and have the travel career that you envision but, it is in your hands to take action.
Ready for take off?
Learn more about Sahara Rose here
Marisa
Founding Member & Owner of Brave Little Beautiful
"As a lifelong learner with a passion for travel and cultural immersion, my professional experience has been primarily within student travel education. Struggling to find a voice of my own, Sahara Rose's Travel Coach Program, her unique and inspiring approach, has helped me create a holistic framework for the kind of leader I strive to be in this evolving industry. Learning from her focused dedication, I am excited to create a program of my own that transforms the "why" and "way" we travel, implementing approaches from the wisdom and values of indigenous perspectives to inspire sustainable travel from the inside out as a tool for self awareness and connection."
Graduate of The Travel Coach Certification Program

"I wrote down this as one of my goals when I signed up for the Travel Coach Certification Program: "I'd love to learn about strategies in growing my clientele, selling travel, and helping guests understand the value of the cost of travel." Sales is not my strength. Through the program I feel like I've gained confidence in being a stronger sales woman and being able to sell travel from a lens of value first and how our trips can be supportive towards women's travel goals." 

Anais
Mindfulness & Travel Coach
"Before the travel coach program, I was just a curious soul and a traveler who knew she wanted more out of life and travel than most people. It wasn't until I discovered travel coaching and the travel coach program that I realised that I can do more with my passion and combine my longing for a deeper purpose with traveling. Enrolling in Sahara's travel coach program opened a lot of new doorways and I have learned and grown so much. I am now turning my passion into a profit. She's a great mentor who is always there when you need her and loves to bring like-minded people together. This program is a great boost to get you into the world of travel business and see what's on the side of the creators, the dreamers, the go-getters!"
Ana
Certified Family Travel Coach
"I've taken courses before, and some of them have left incredible value for me, but TCCP is the only program where I've felt the continuous value outside of the course curriculum! Knowing that Sahara is always an email away for any questions, and that we get to keep learning from her makes this program stand out for me."
Shelley
Member of the TCCP
"I just finished the brand story training with Sahara Rose. I feel very fortunate to have found this program. Of all of the trainings I have done for coaching, Sahara breaks the information she shares down into manageable, digestible pieces better than anyone, leaving me with greater clarity and understanding of the things I need to do to enable my vision to unfold. Thanks so much Sahara Rose!"
Shelly
Lifestyle & Travel Coach & Owner of MEscape

"Sahara Rose and her travel coach program came along at a time when I was trying to identify my niche in the coaching world. Her course gave me access to the skills and knowledge required to build a travel-related business. It has been such a support to have Sahara there to make me think about my own story and how my unique voice can pave the way toward my future as a travel coach. To be honest, I didn't think my backstory was worthy. But then something clicked when I tuned in to one of her Facebook Live sessions. From that moment everything started to fall into place with my concept. Sahara walks her talk and goes that extra mile. Her constant words of encouragement to show up and get out there even when things are not perfect are what puts her into a special class of mentors. What I value most lately, though, is the travel coach community – a group of like-minded travel souls who share a passion for taking our careers to the next level. I've finally found my tribe thanks to Sahara."
Kiawna
"I had the idea coming into this that travel coaching was more about working one-on-one with clients or public speaking, but I learned in module 6 of how many different sorts of services that I could offer. I was able to make a list that expanded beyond private coaching and it gave me a lot of useful ideas on how to expand and build a variety of revenue streams."
Jakub

"Every module has super useful and interesting information. :) but probably my favourite one is module 8 which is incredibly complex and really helpful in teaching how to actually coach. And combine holistic and practical aspects of travel coaching approach"
Jessica

" it's helped me has been in terms of my mindset. I have mental blocks around using the word 'coach' (especially as I don't want 1:1 coaching calls to be my main form of income) and this program has shown me that I don't have to offer that in order to call myself a coach"
Jamillah
"I enjoyed the course. It has so much information and tools to help me start my journey. It also helped me conquer some fears that I was having about running my travel coaching business. I have gained so much knowledge and will continue to use the course to help me. Thank you, Thank you!"..."this program "also gave me tools, recommendations, and insight, increasing my confidence to run a successful coaching business."
Graduate of the TCCP Program
"I want to say that I am really enjoying the training, and podcast. You have tons of great material; I must say what really made me commit to the program was the passion that pours out of you during these training and the engagements with your clients. That really differentiates you from other coaches"
Cecilia
"This program helped me in developing more structure in the program I want to launch. I am a travel agent and run my own business since 2005 but three years ago I started my journey as a coach. After this program I did my coaching more intuitive. Now I gained more confidence in coaching 101 and of course also in group coaching. Planning the trips for my travel agency customers have now the plus of creating an experience that is more effective. Since I began this course I had several customers that called my to book a trip and I was able to sell them the trip and a package of three 101 sessions. This is exactly what I was looking for. Thank you Sahara Rose for developing this program."
Sean
Certified Travel Coach & Relocation Specialist
"This program helped me dive deep again and discover my limitless potential. Helping structure a business strategy with a more secure foundation. Realizing again why I am meant to do this. It's like having a bunch of quality ingredients but not knowing how to make a delicious dish. Your program is the recipe book we all needed to finally prepare an appetizing masterpiece."
Graduate of the TCCP program

"The Travel Coach Training has helped guide me in the right direction. It has help me to identify and to focus on a specific niche. It's given me great insight on a business plan as well as the marketing aspects of running an Adventure Travel Coach business. Honestly, this program really has exposed me to so much information and given me so many great tools to work with. It really eliminated work that I would have never known where to start of find. It's provided me with a priceless map for business direction. This program has helped me to execute the steps I needed to bring it to fruition and move forward"
Graduate of the TCCP program

"It has given me confidence to pursue this field in a way that feels authentic to me. I knew i didn't want to be a travel agent or work at a hotel and felt so lost before, and this program was like a breath of fresh air. I'm so grateful for it and everything I've learned."
Laura Rahn
Family Travel Coach

"I have been looking for a way to use my coaching skills in an authentic way, while also being able to share my passion about travel and travel planning. Becoming a family travel coach is the best of both worlds, coaching and talking about travel!  The Travel Coach Certification Program has been the gift I didn't know I wanted!
Thank you again for all of the support and resources as I go slow, to go fast and build my business!"
Terri Reynolds

Transformative Travel Coach

"When I realised that being a Travel Coach is 'a thing' I immediately signed up. I started reading about the programme and the smile on my face got broader and broader. I felt I had found my people, I felt heard because everyone else felt the same way I did. And to know that I can help people like me do what I did, is incredible and amazing. It has given my life a new perspective and a new direction of how I want my business to be. It's allowed my love for travel to resurface, to be combined with my role of transformational life coach, allowing me to help and support women who are in the same situation as I was many years ago when I was new to travelling. Ironically, the TCCP has helped me gain clarity of my own programme. It's been enlightening, supportive and very informative, more than any other programme I have joined"
Graduate of the TCCP program

Certified Travel Coach

"I have loved taking this course on so many levels. Though I had already started my travel business, travel coaching was totally new to me. Through the course program its has helped me redefine my business as a whole, put renewed focus on what I am trying to achieve and realign my core message. The networking has been invaluable and I have loved working with my accountability buddy. The support from the community with helpful resources and at anytime I was stuck there was someone to give advice. I am really excited to where this new chapter of my travel entrepreneurship will take me and I am looking forward to the services I can offer and the support I can give to my old and new clients to be. A NEW EXPERIENCE IN TRAVEL BEGINS!"
Ana Carolina

Founding Member , Travel Experience Coach

"My passion to travel and the need to follow my life purpose brought me direct to Sahara and her Travel Coach Network. After hours reading about her life, her program, and what she stands for I had no doubt this was what I was looking for! The Travel Coach Program gave me all clarity I needed to define my niche and really build my business from scratch. Now I can say that everything is fitting in the right place and this will be for sure my real life job! Her course also supported me to take the decision to go further on the life purpose and personal growth area, and now I'm finishing a Life Coach Certificate Course that I want to integrate with travel, to really help people to live better, grow, get to know themselves and of course, do it all while travelling with purpose! Thank you so much Sahara for all your amazing work on this course and all initiatives you do to level up women and travel!"
What if i'm super busy right now and don't have time at the moment?
What does it mean to be a member of The Travel Coach Network?
What if I already am a Travel Coach?
I am analyzing my decision and doubting myself. Should I enroll in The Travel Coach Certification Program?
What is The Travel Coach Network?
What makes ICF and CCE Accreditation Different?
What does the program consist of and how long does it take to complete?
What is the difference between a Travel Coach and a Travel Agent?
Tatum
Founding Member, Owner of Bonvoyage Babes, & Host of 20 Till Takeoff Podcast

"You see, before Sahara, I was running in circles in my business--constantly hearing everyone in my life say "what are you even doing with your life", "why haven't you figured it out yet". I was trying my best to make money, but nothing ever felt like my true passion. Since meeting, getting to know and going through the Travel Coach Program, I have found the most clarity in my business! I knew travel would always be the forefront of my career, but trying to monetize that by simply writing blog posts and doing brand deals wasn't ideal, and I knew it wasn't sustainable. She has opened my eyes to sooooo many opportunities, and what I love the most about working with her is patience. She dives deep in our sessions to really help me understand my mission and vision--we're basically the same person!! I know that Sahara will be there every step of the way to help take my business to the next level--so I can serve more, earn more and be truly happy."
Stefanie
"I do not know where to start, what to teach in the topic of travel. I have not a product yet. Before, I had never heard of a program for exactly what I want to do. I do not want to book the travels or plan the trips, but I want to empower people. I read your complete webpage with lot's of emotions, I am just a chemist with a quirk for travel. Slow travel and sustainability are my dream fields with no ideas to teach, to coach and blocked my mindset the last days. Connection is the most important thing. I take a lot of courses but nobody really understands what I mean when it comes to travel. I read from her page that those areas need to be human CONNECTION, authenticity, empowerment, mindset, transformation, the customer as individual. It's exactly what I was looking for."
What members said that they have learned:
"How to find my message & the solution I provide to others"
"Discovering what I have to offer and to who I have to offer it"
"Learning how to build a business from scratch and really digging deep into my own story and journey"
"How to share my experiences with others and what I can teach others"
"How to reach out to my audience and where too find them: from being overwhelmed by the many possibilities"
"Knowing exactly what I should do as a niche"
"The travel coach approach!! "I love everything about transformative travel and intuitive travel and I learned so much about the value of travel and really how to help people find their deeper meaning and help them with their transformation and turning travel into a purposeful and mindful experience from which they can grow"
"How to offer tools to redesign their life according to what they really want"
"How to create your dream framework, programs, masterminds, course, or other offers"
"How to work out different pieces of my own unique puzzle that all worked together to formulate my ideal, target client."
"Knowing where your creditably markers lay within your travel experiences, even if you think you have none."
"How to do research effectively"
"How to center your business around your values"
"How to use the right voice and channels to talk to your client/niche"
Examples of some niches that Travel Coaches focus in:
Keep in mind that every travel coaching niche is different and unique to the coach and is based upon their personal travel experience, knowledge, skills, passion, and expertise.
Some Travel Coaching Niches include:
Budget travel
Solo (female) travel
Couples travel
LGBTQ travel
Family travel
Business Travel
Corporate Travel
Digital Nomad Lifestyle
Travel Photographers
Adventure and Thrill-Seeking travel
Single Parents traveling with children
Travelers Age 50+
Traveling with Severe Allergies or Health Issues
Traveling with Autism
Traveling is an Anxiety or Mental Health Issue
Student Travel
Traveling with a Disability
Traveling as a Specific Race, Religion, or Nationality
Sustainable and Eco-travel
Wellness Travel
Regenerative tourism
Voluntourism
Remote work
Transformative Travel
What Areas of Focus do Travel Coaches Help Travelers On?
Travel Coaches focus on a variety of aspects for their clients. The areas of focus, just like niches, depend upon the Travel Coach's specialty and expertise as well as the client's desires and needs.
Some areas of focus may include:
Mindset work
Improve mental and overall wellbeing
Sparking creativity through travel
Improving company culture
Integrating culture
Enhancing experiences
Results driven experience
Traveling sustainably
Planning a trip
Money management
Setting a budget
Recognizing WHY someone wants to travel
How to use travel to help figure out a life path
How to use travel to help figure out a career path
Finding purpose through travel
Finding your passions
How travel can help with your relationships
How travel can help you heal in some way
How travel can help transform your life
Finding your spiritual path
Self-improvement
Build confidence
Traveling solo
Taking the leap
Challenging yourself
Boosting elf-esteem
Overcoming or managing fears and anxieties
Finding your happiness
Reaching your goals in travel and life
Geneva
Adventure & Work Abroad Coach
"I have gone from 0-60! It went from being an 'idea' to full-on execution. The foundation is in place to now learn and grow as an individual, but also with my business. I didn't consider myself a coach or entrepreneur prior to signing up for this course. It's only now, that I have began to build my brand that I start feeling more confident in my abilities and my knowledge. I look forward to watching it grow as I learn more about the audience responding to my content, and am looking forward to shaping it to fit their individual needs over time, while staying true to myself, my passion, and my core values for this business."
Alicia
Certified Travel Coach
"I had no idea what I was getting myself into when i started the program. the term 'travel coach' was new to me, and happen to me serendipitously. I thought travel coaching would be more related to travel agent or planning, but it's more personalized, more meaningful, with the goal of empowering people where they are in their journey. We all travel differently and have different goals/intentions when travel. People who have not traveled much may not realize this until further down the road, and it is my goal to help them tap into their potential sooner rather than later. Additionally, the program provided me with a community of like-minded people who are travelers and entrepreneurs. It is comforting to know there are are many people with the same goals in mind in my new network and career path. I learned so much about what it means to be an entrepreneur"
Erica
Travel Education Coach
"The Travel Coach Certification Program has been a great experience! When I first started the TCCP…I knew I needed support in growing into the next level of my business. I got that and more from this program, thank you! My long term goal had been to offer one-on-one services for people and this program helped me transition from a travel education blog and resource library, to also offering travel education coaching. I love the work that you are doing in deeply exploring what underlies and motivates us to travel. The program has given me better language to talk about it with others and inspire them to move towards more profound discoveries."
Ricardo
Certified Travel Coach
"Sahara and her Travel Coach Program have been incredibly beneficial in carving out my travel business. When I started the course I had no idea how I would create a career in travel. It almost felt impossible. Through her program, I quickly found a niche authentic to me and my experience. As I went through the course, it helped me create a framework on how to would service seekers in that niche. I found Modules 5 and 6 very helpful as they flushed out my messaging and story, which supported the vision of my offer. Sahara's expertise and knowledge in the industry on training calls have also been very helpful."
Travel Coach Certification Program Graduate
"Overall a great program that includes a lot of insights how you can build your brand, where to focus and where to start. As a design it is super structured and it is not only a coaching course and helps you to learn on coaching but it also helps you to set up a business and since Day 1 you feel welcomed by a community and never feel alone during the course."
Ashley
Founding Member & Owner of Wanderdolls
"I found that a lot of Sahara's program resonated with me. I'm an avid traveller who has worked abroad since graduating university, both by doing teaching contracts abroad and by working remotely while travelling. When doing that, I began my travel blog, Wanderdolls, and offered freelance social media and website creation services. However, I wanted something more travel based beyond my blog, more of a travel based services, but many of the remote travel agencies didn't seem like a good fit. After working with Sahara, and going through her course, it gave me some clarity. Allowed me to really break down what it is I want to achieve and work towards that. While I still have a lot of work to do (and Sahara's course is ever growing, so I'm not even finished it yet!), it's helped me build a roadmap. I'm excited about my future to offer even more services to people who want to build a travel lifestyle!"
Jackie
Hawaii Travel Coach
"Sahara Rose coming into my life was no accident. The Travel Coach Program is exactly what I needed to bring my business to fruition and it 100% supported my niche. With the guidance of Sahara and her program, everything is fitting right into place like a puzzle. Sahara has such a tremendous passion for the travel industry and her honesty as well as generosity goes above and beyond. Everything in your course is exactly what I needed! The Universe sure lead me to you!!"
Jasmine
Self-Love & Personal Devleopment Travel Coach
"Just wanted to take a minute to send you some love and thank you for creating the Travel Coach Certification Program! It has been a game changer for me! I know when I first enrolled and even when you and I had the 1 to 1 once I'd finished the course, I didn't really have a clear vision and this was still something I wanted to do "later". I've had a huge mindset shift and change and this is what I want to do NOW, and after our chat the mental shift happened and I feel much more focused, prepared, ready to do this and most impressively, I feel like I am worthy to do this work. Thank you for all of your support, you really are amazing and a great mentor"
Annie
Founding Member of the TCN
"I am so confident on enhancing my travel business based on what I learned in this program. It's made me really put pen to paper and understand why I am so passionate about helping others travel based on my own personal experience and how I can serve others. It's been a game changer!"
Meet just SOME of our TCCP program gradutes!
Courtney
Wellness Travel Agent & Coach

"The program has transformed me by encouraging me to follow my dreams to become my own boss, to have confidence, and to take one step at a time to reach my goals. The program has really ignited my energy to finally become the entrepreneur I always thought I could be, and to find a way to merge that entrepreneurial spirit with my passion for travel"
Courtney
Wellness Travel Agent & Coach

"With the Travel Coaching Certification, I can offer even more to my clients besides just booking travel. The additional value I will provide through what I have learned through TCN will help me grow and build repeat business."
"The Travel Coach concept is a wonderful way to incorporate my passion for travel and desire to work in the industry. I can do what I love and help others at the same time."
Joelle
Member of The Travel Coach Certification Program

"I had an absolute brain wave this morning that completely changed my target audience when I started on your course! I thank you for the structure of your course."
Veerle
Travel Coach

"This program gave me clarity of the possibility of becoming a Travel Coach, something I'm very interested in and didn't know was possible before. This program gave me the necessary tools, framework and techniques to create a Travel Coaching business for myself and helped me transform into an entrepreneur."
Malain
Solo Female Travel Coach
"This program has given me the confidence to put my dreams into action. Most programs that I had enrolled in previously did not have a focus on the travel industry which left me with a lot of questions in how best to structure an online program and coaching for this niche. Leaving this program, I have the tools to build and manage a successful coaching business within the travel industry"
Ana
"Thank you, thank you for creating such a beautiful list of affirmations and a beautiful program. Im about to go to bed feeling so empowered, vibrating high, owning my gift, my knowledge, my expertise; and certain that I will achieve great things and that I will help change other people's lives"
Michelle
Founding Member & Owner of The Mosaic Way Travel Co.

"During my search for a career I found the Travel Coach Network and Sahara. It was a total God moment for me. I felt that God had brought Sahara into my life to show me I was not alone in my desire for wanting more from life. I've been blessed with a supportive family and friends, but Sahara blessed me with the gift of feeling truly understood. Her program has given me steppingstones to make a future for myself that I am in control of, and that works with my vision. She has been a kind, patient and consistent mentor. I've always had ideas and vision, but Sahara and her program have helped me narrow my focus, push my fears aside, and take that leap of faith into the unknown. I've always felt that some of my best memories and accomplishments in life came from moments where I said "yes" to things that pushed me outside of my comfort zone. Sahara helped me lean into that feeling even more, and believe in myself. Thank you for all that you are Sahara, you were an answer to prayer."
Mandeep
TCN Founding Member & Personal Freedom Coach
"Sahara has helped me clarify my vision for that I wanted for my Travel coaching business, and keep me going when my motivation was flagging, with specific direction and guidance. I am thrilled to be part of her beautiful soul tribe and inspiring community, which she bought together at her Thrive through Travel event. It is a testament to the people that Sahara attracts. She has created a gorgeous energy, and a space where you can be vulnerable authentic. Since I started working with her, Sahara has consistently levelled up which has compelled me to level up. Thank you for being an amazing mentor Sahara!"
Tricia
Member of the TCCP Program

"I love that the TCN has so many networking opportunities - from getting people to introduce themselves in the FB groups, to the media opportunities, to the guest coach calls, to the meetups. The TCN really encourages people to connect and see how everyone can support each other."
Gina
Member of the TCCP Program

"It's been great with the helpful tips and info within the community, plus the support of the moderators and admin has been great. I've got my accountability partner which helps keep me on track with the coaching program. "
Anais
Mindfulness & Travel Coach
"I have realised that I do have the power and experience to teach others, guide others and inspire others to become the best version of themselves and travel inwards and outwards can be transforming for all of us. I have learned that I can make a living out of my passion and purpose and I have learned that asking the right questions pull out the right answers."
Yuliya
Travel & Lifestyle Coach & Educator
"It has been a valuable piece of the puzzle to creating my personal brand and coaching practice. I absolutely loved the systematic approach and thorough coverage of all the important aspects of becoming a travel coach. I am significantly more confident when in creating and presenting my product due to my education in TCCP."
Shelly
Lifestyle & Travel Coach, Content Manager
"the program gave me my AHA-moment plus the fundamentals, resources, and tools to do a deep dive into my story which ultimately guided my coaching practice and business. The course also introduced me to an amazing community of travel coaches who I now call friends."
Muna
Mindset & Intuition Travel Coach
"My favorite module was the one about finding my niche!! I felt so overwhelmed by clarity after completing it, after actually spending quite some time. I added an extra level of dimension to the whole situation: the people I could serve suddenly became alive and they were reachable. They are only waiting for me and it was so invigorating!"
Malain
Solo & Budget Travel Coach
"This program has given me the confidence to put my dreams into action. Most programs that I had enrolled in previously did not have a focus on the travel industry which left me with a lot of questions in how best to structure an online program and coaching for this niche. Leaving this program, I have the tools to build and manage a successful coaching business within the travel industry."
Ciara
Wellness & Adventure Travel Coach

"The program has allowed me to dream and know that my unique experiences and expertise are important and needed. That what I bring is different, and my voice or speaking my truth will allow me to stand out and resonate with the right people. There is so much to around and the world needs my unique gift. All that too say, my mind-set has definitely transformed after taking the course because I used to think who would buy from me, but now I feel that what I offer is valuable."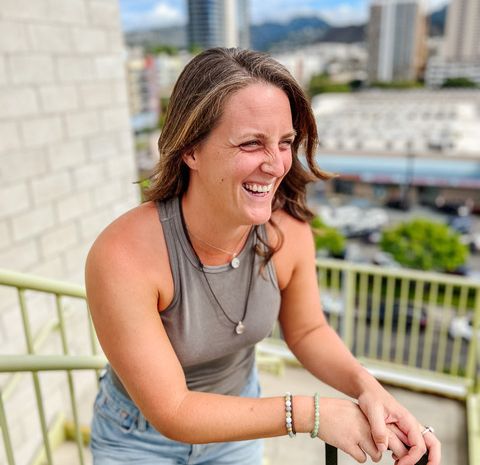 Tricia
TCCP Member

"I really got a lot out of what specifically to focus on as I build my business, especially what NOT to do. You often see people with these beautiful websites or marketing ads on IG and for a while I thought that's what I needed to do to become a successful travel coach (and I actually did spend a lot of money making a website I'm not even using right now). So it's been extremely helpful to have a structure that I got from the TCCP that helps me focus on what's important in my business. And now I'm hosting workshops, meetups, and events that spark joy in me and help me build my client base!"
Lizzie
Empowerment Coach
"This program has given me more in depth information and resources within the travel industry. It has alleviated and concerns I had in terms of the impact COVID-19 has had on the industry and the potential impact that may have on the travel coaching world."
Jasmine
Self-Love & Personal Development Travel Coach
"It has completely changed my mindset and allowed me to dream (and begin building) of a successful business focused on the service of others and helping women thrive in their own right."
Ana Carolina
Travel Experience Coach
"The key transformation came in place giving me directions, guidance and instructions on how to organize all the thousands ideas I had. After my life coaching certification I was not clear the best way to match travel with it, but going through the program and exercises, all this came to life and was clear to me. Also as en entrepreneur, the course gave me directions on where to allocate me efforts in the beginning, how to organize my business to be profitable and scalable. This program is really complete, covers all pieces that I was struggling with."
Lizzie
Empowerment Coach

""I learnt that the opportunities are endless when you have your own business and I am just at the beginning of my journey. The 'How to be a travel coach' module made me realise that there are so many different ways of earning an income through different types of coaching and programmes you can offer. It made me excited for the future."
Christine
Graduate of the Travel Coach Certification Program
"the Travel Coach Certification Program became a building block to a grander vision; everything I want to do now is everything I've already been doing but with more clarity and direction now."
Christine
Graduate of the Travel Coach Certification Program

"This program has transformed me as a coach and/or entrepreneur by providing structure, resources, and support to my ideas. Previously, my vision seemed out-of-reach and now it's strongly anchored in a solid foundation for growth. It's provided me the support I've needed to confidently go after what I want"
Malain
Solo Female Travel Coach
In Module 2, I learned of the many revenue streams available to travel coaches. Prior to joining the TCCP, I had thought 1 on 1 coaching to be the main source of revenue available to me as a coach. But after going through this module, I realized that there are numerous touch points for your potential clients to benefit from your knowledge and expertise. I have been able to generate ideas for numerous products and offerings from this lesson"